Full name: Harold N. Dash
Born: July 22, 1917
Died: November 12, 1980 in Glenview, Illinois, United States
Club: Illinois Athletic Club
College: Northwestern University
Playing Years played: College 1936 – 40, Club 1940 – 56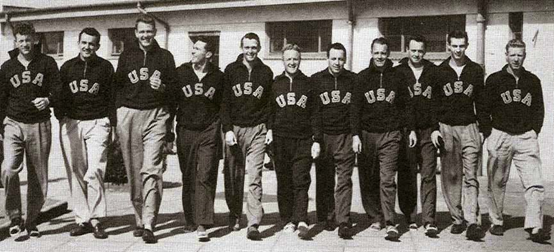 1948, London: The U.S. Olympic team
The USA National team that took part in London 1948 Olympic Games. L-R: Kenny Beck, Bob Bray, Ralph Budelman [link to Budelman], Lee Case, Devere Christensen, Harold Dash, Dixon Fiske, Eddie Knox, Jerry Miller, Don Tierney and Frank Walton. Despite winning the initial game 7-0 against Uruguay and tying the powerful Belgium 4-4, the US team lost the decisive game against Sweden with 7-0 and thus was eliminated from the further competition.  Dash participated in the 7-0 victory over Uruguay.
Source: A history of the USA Water Polo in the Olympic Games.
Participation:
AAU Sr. National Championship Team outdoor 1951, 55
AAU Sr. National Championship Team indoor 1941, 48, 51, 55, 56
US Olympic Team 1948 London Eng.
Honors:
Captain Northwestern Water Polo & Swim Team
Elected to USA Water Polo Hall of Fame: 1976, Charter Member
Personal:
Business Wright Industries Inc.