2023 CAMPS
Malibu Water Polo Camp
Malibu Water Polo Camp (Summer 2023) – Come train with Olympians Terry Schroeder and Merrill Moses at Pepperdine University. Register at malibuwaterpolocamp.com or call 805-371-1495 if you have any questions at all. All sessions expected to sell out. There is a Holiday Special Discount available if you register for next year's summer camps by December 25, 2022. This can make a perfect holiday gift for your son or daughter. Go online and sign up now to secure your spot.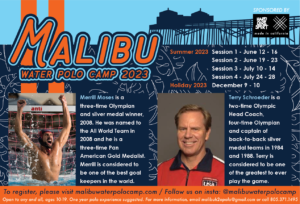 5 Meter Water Polo Camp
The 5 Meter Water Polo Camp, hosted by Olympian Genai Kerr and sponsored by Missouri Water Polo returns to St. Louis on June 4th and 5th.  The camp will run from 9 am – 4 pm on both Saturday and Sunday.  There will be a 1 hour lunch break from noon – 1pm each day. The camp is designed for both middle school athletes (12U & 14U)  as well as high school age athletes (16U & 18U).  In addition to Genai Kerr, Coach Carin Crawford (Head Women's Water Polo Coach San Diego State University), Coach Colleen Lischwe (Head Men's and Women's Water Polo Coach McKendree University) and Coach Miguel Figueras will be running the camp.
On Saturday, June 4th, there will be a free Splashball clinic for ages 6-10 from 4-5 pm.  At the same time there will also be a college talk for athletes that are considering playing collegiate water polo which Coach Crawford and Coach Lischwe will present.
Athletes outside of Missouri but in the Midwest Zone can use the code "Midwest$25" for $25 off the fee.
To register for the camp please use this link:  https://5meter.com/products/saint-louis-missouri-water-polo-camp?variant=undefined
To register for the free splashball clinic, please use this link:  
https://5meter.com/collections/splashball/products/saint-louis-missouri-splashball-camp
_____________________________________
Hosting a camp?  Send the information to [email protected] and we will post it here.