RALPH N BUDELMAN
Club: Illinois Athletic Club
Playing Record: IAC 1936 – 1955
Participation:
AAU Sr. National Championship Team indoor 1940, 41, 48, 49, 52, 55
AAU Sr. National Championship Team outdoor 1951, 53
US Olympic Team 1948 London, England
Member of USA Water Polo Hall of Fame (Class of 1979)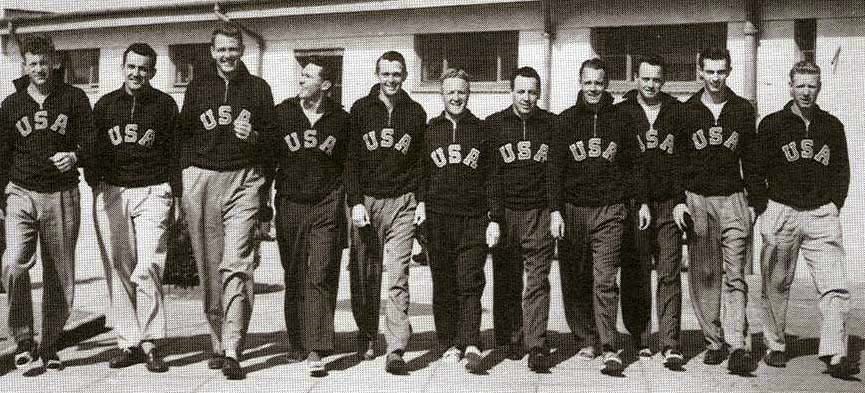 1948, London: The U.S. Olympic team
The USA National team that took part in London 1948 Olympic Games. L-R: Kenny Beck, Bob Bray, Ralph Budelman, Lee Case, Devere Christensen, Harold Dash, Dixon Fiske, Eddie Knox, Jerry Miller, Don Tierney and Frank Walton. Despite winning the initial game 7-0 against Uruguay and tying the powerful Belgium 4-4, the US team lost the decisive game against Sweden with 7-0 and thus was eliminated from the further competition.
Source: A history of the USA Water Polo in the Olympic Games.
Budelman, Ralph N. October 27, 2002  Tribune Obituary
Ralph N. Budelman, born in Chicago, IL, died October 24, 2002. Loving father of Jane (Thomas W.) Heenan, Thomas N., Tiff (Joanna) and James K.; grandfather of Charlie, Lydia (Adrian) Marshall, Peter, Caine, Gray and Bonnie. Past president/owner of Ralph N. Budelman Company. Member of Swimming Hall of Fame, member of Illinois Water Polo Hall of Fame, past president Midwest Chapter of the United States Olympians, and was member of the 1948 Olympic Water Polo Team, past director of Chicago Boys Club, past president of the Illinois Atheletic Club, past director of Hinsdale Golf Club, past director of First National Bank of Hinsdale, member of the organizing Committee for Richard J. Daley Pan American Games of 1959 – Chicago, and United States Navy Veteran WW II. Interment private.