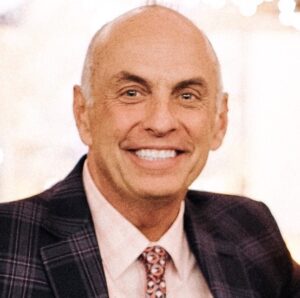 Mike (V Man) Vlamis – Mt. Carmel
Mike Vlamis attended Mt. Carmel High School where he competed in water polo, swimming, baseball & was the light heavy weight boxing champ at Carmel's legendary "Fight Night". Mike was one of the most prolific goal scorers to ever play in the Catholic League. On Halloween night 1975, Mt. Carmel's water polo team pulled off an historic upset over state powerhouse Fenwick, to capture Mt. Carmel's first ever state championship. The game went to triple overtime sudden death with the Caravan prevailing 17 to 16. As the teams co-captain, Mike scored 10 goals (still a state record), including the game winner in sudden-death. His contribution to the team & the sport was recognized by the Chicago Catholic League by awarding him with the Tony Lawless Award. He was also chosen the state's MVP & was a first team high school All-American in water polo, a feat rarely achieved by anyone outside of California.
Every Halloween for the past 44 years since that victory over Fenwick, Mike places a call to Fenwick's captain Joe Wendt, whom he has developed a lifelong friendship. That annual call captures the spirit of Mike Vlamis & the Chicago Catholic League: competition in the pool, on the court or in the field of play often leads to lifelong friendships. Mike went on to star at the University of Illinois at Chicago (UIC). There he became a 3 time Captain, 3 time MVP & 2 time Midwest Conference leading scorer. At UIC he was a part of 2 NCAA Eastern Regional Championships & UIC was ranked 6th in the country his senior year. During his 4 years at UIC they compiled 79 wins & 17 losses. In 2015 Mike was named one of the top 50 athletes in the history of UIC sports. In 2020, Mike was inducted in the Chicago Catholic League Hall of Fame, his 4th Hall of Fame induction!
After college he competed internationally for 10 years on the AAU circuit with the Chicago Apostles Water Polo Club. They won several national tournaments & finished first place at the Pan Pacific Games in 1989. Mike is now a mortgage banker but still focuses his energy towards his beloved high school. He's a board member of Mt. Carmel's Alumni Association & MC Foundation. He volunteers for many events & outings, along with being the emcee for Carmel's annual alumni banquet & Night of Champions event. Through his hard work & dedication to the school he loves, he was also awarded the "Man in the Arena Award". Mike considers it an honor to be selected to the IWP HOF. His greatest accomplishment is being married to his wife Denise for 32 years & their 3 grown successful children: Michael, Kelsey & Stephanie.